Silver sintering is a proven die attach technology offering a void-free and strong bond with high thermal and electrical conductivity. It provides both high yield and high reliability. Boschman is market leader for Ag-Sintering services and equipment. Because we already supported many customers with solutions for many different applications, we have in-dept knowledge and experience. Thereby we make use of unique dynamic insert technologies and offer you in-house sinter tool design, manufacturing and testing. We offer any required industrial solution including e.g. clip-sintering.
Ag-Sintering Technologies

Silver Sintering is a die-attach and bonding technology, offering a void-free, strong bond, with superior thermal and electrical conductivity. It can decrease the junction temperature (Tj) of your device up-to 100℃. In the Sinter process, being heated under the right circumstances in terms of pressure, temperature and time, the silver material changes in form from powder to a solid structure. This results in a reliable sinter bond which increases both the performance and lifetime of your device, compared to traditional solder material.
 Main advantages of our Ag-Sintering technology
Closed loop precise pressure control and monitoring.
Pressure applied only on areas where required.
Guaranteed equal pressure for multi Die applications due to the patented Dynamic Insert Technology (DIT).
Extremely long life-time of tooling resulting in very low running costs.
Enabling highest density tools with interspaces down to 400µm.
Largest available effective sinter area of 350x270mm, providing a high UPH.
Supporting large variation of geometries, including clips. 
Boschman offers two categories of AG sintering solutions: for R&D, prototyping and low volume production we offer the Semi-automatic, Sinterstar Innovate series. And for efficient, high quality medium to high volume production the Sinterstar Auto and Inline series are the best choice.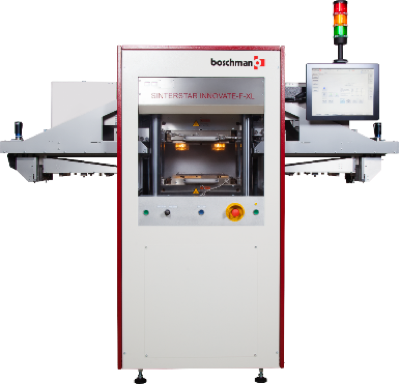 Sinterstar Innovate series
The most universal semi-automatic sintering system for all your green, lead free die attach technologies. Silver sintering is a new die attach technology offering a void-free and strong bond with high thermal and electrical conductivity. Resulting in high yield and high reliability.  
The system is capable to sinter a wide range of different devices, among others led, power, igbt, qfn, clip/heatsinks, thyristor and custom designed power module devices. The Sinterstar Innovate-F-XL excels in offering largest sinter area of 350 x 270 mm and a precise temperature control up to 320 C. Our unique high precision dynamic insert pressure control technologies enables you to sinter multiple dies with different die thicknesses. Resulting in a controlled and predictable bond strength.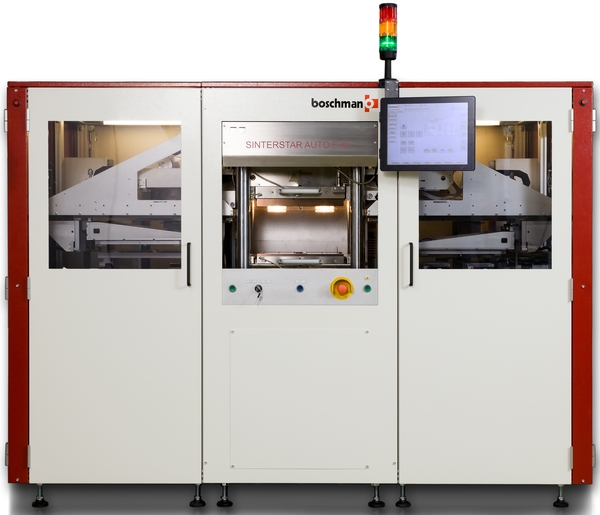 Sinterstar Inline and Sinterstar Auto Series
Our fully automatic Ag sintering systems offer the absolute highest throughput available in the market. Our systems are capable of sintering a wide range of different devices: among others LEDs, Power Devices Clip/heatsinks assemblies, solar (CVP) cells, custom designed power modules and more.
The systems excel in offering the largest sinter area of 350x270 mm, precise process-control and –monitoring, logging large number of key parameters to auto-control the quality with pre-set upper and lower control levels. All our systems can be equipped with a large variety of sintering tool concepts.
   Boschman (NL)
Advanced packaging technology
Stenograaf 3, 6921 EX Duiven
The Netherlands
T      +31 26 319 4900
   Boschman (SG)
Advanced packaging technology
BLOCK 161, KALLANG WAY, #01-03/08, Singapore 349247
T     +65 6743 7188