At Boschman we believe being part of an collaborative innovation ecosystem will transform the ability to rapidly and sustainably develop next generation technology that will impact the future. It can bring new partnerships and new technologies to leverage on for new product developments. In the table below an overview is presented of European projects we are currently actively engaged in: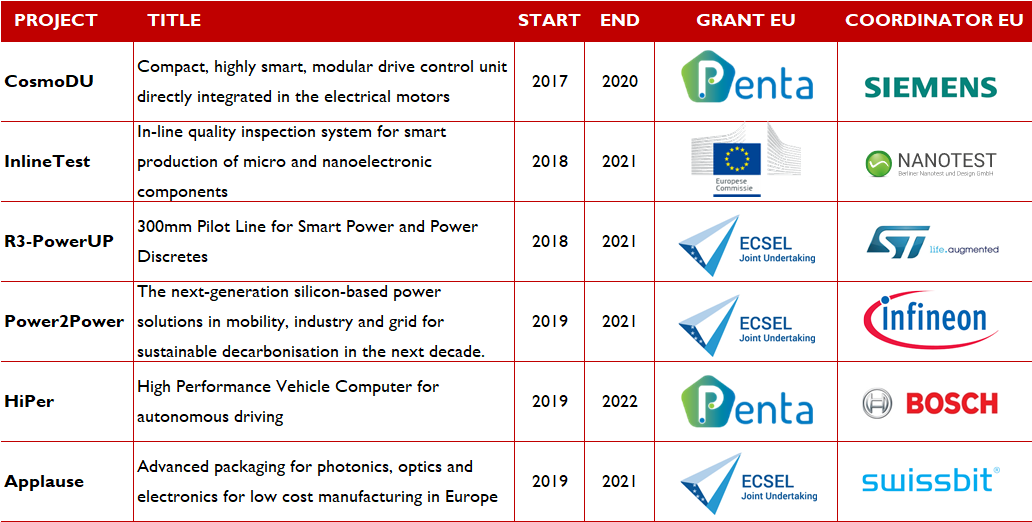 Below more details about these specific projects can be found:
CosmoDU stands for smart, efficient integrated industrial drives with communication and self-learning capability for connected systems. The evolution of machines requires electric drives to actively monitor and adjust their own key operational parameters such as speed, direction and power, in case of performance or environmental changes. CosmoDU has developed the hardware platform of next-generation drive units, where sensors, signal processing, secure communication and control and power electronics have been directly integrated in the housing of the motor. This new drive unit uses its self-learning capabilities to adjust and improve its performance.
For more info: CosmoDU
INLINETEST is a European funded project that targets the design, realization, deployment and test of two novel in-line inspection systems for micro/nano-electronic components. For the first time, the fast, contactless and non-destructive full-field thermometric methods of Pulse-Infrared Thermography (PIRT) and Thermoreflectance (TR) are exploited to enable 100% in-line production monitoring. This will be done by adapting and upgrading existing lab prototypes for both methods to the challenges of real-life in-line testing, enhanced by hard- and software innovations. For validation under real-life conditions, both failure analytical method's hard- and software will be customized and integrated into two production lines and demonstrated on two encapsulated power multi-chip module (MCM) components and one in-line production tool at the project partners. 
For more info: InlineTest
R3-POWERUP will push through the new generation of 300mm Pilot Line Facility for Smart Power microelectronic technology in Europe. This will enable the European industry to set the world reference of innovative and competitive solutions for critical societal challenges, like Energy saving and CO2 Reduction, as well as Sustainable Environment through electric mobility and industrial power efficiency.
For more info: R3-PowerUp
The global energy demand is constantly growing. There is the strong need to increase the usage of renewables to reduce carbon emissions. The most potent leverage here is pushing electrification in industry, mobility and grid. This increases the demand for efficient power semiconductors, which are used wherever electrical power is generated, transmitted or consumed.Power2Power fosters a holistic, digitised pilot line approach in the Power Electronic Components and Systems (ECS) domain by accelerating the transition of ideas to innovations. The digitised pilot line approach along the complete supply chain located entirely in Europe will strengthen the international leadership of European industry through working together with multiple organizations, combining different disciplines and knowledge areas in the heterogeneous power-ECS environment.These comprehensive efforts will enable high-volume production of smart and high-voltage silicon-based power electronics, changing the market towards energy-efficient applications to meet the carbon dioxide reduction goals of the European Union. Consequently, economic growth and tackling grand societal challenges such as smart energy and mobility will lead to safeguarding meaningful jobs for European citizens.The most competitive power technology to achieve these goals are IGBTs based on 300 mm silicon wafers, providing maximum performance at best cost-efficiency.Power2Power aims at pushing the frontiers in technology on high-voltage, Si-based IGBTs to new dimensions.
For more info: Power2Power
The HiPer project will develop an automotive-grade HPVC computer system capable of handling level 5 autonomous driving and providing new electrical architectures which ensure sufficient compute power and the necessary communication interfaces. This will also mean fundamental changes to connectivity, computational power and safety in vehicle technologies. However, there are no automotive-grade HPVC modules and systems, and even though the first necessary components could become available shortly, they are not expected to be designed for the use in the harsh conditions of real vehicles. Furthermore, essential technological obstacles need to be overcome before solutions can qualify as 'regular' products at affordable prices. These are typical areas the HiPer project will focus on in its work to close these gaps.
For more info: HiPer
The drive for new technology in advanced packaging for photonics, optics and electronics is creating an opportunity to build the competitive edge of component and systems development in Europe, while re-establishing the European manufacturing and packaging value chain. The ECSEL JU project APPLAUSE supports this by building on the European expertise in advanced packaging and assembly to develop new tools, methods and processes for high volume mass manufacturing of electrical and optical components. The technologies will be piloted in 5 industrial use cases, related to:
Ambient light sensor for mobile and wearable applications (ams)
Thermal IR image sensor for automotive and surveillance applications (IDEAS)
High speed datacom transceivers (DustPhotonics)
Flexible patch for cardiac monitoring (Precordior)
Miniaturized invasive cardiac sensors (Cardiaccs)
For more info: Applause
   Boschman (NL)
Advanced packaging technology
Stenograaf 3, 6921 EX Duiven
The Netherlands
T      +31 26 319 4900
   Boschman (SG)
Advanced packaging technology
No. 3 Kaki Bukit Crescent, #01-01, Singapore 416237
T     +65 6743 7188
   Boschman (CN)
Advanced packaging technology
No. 188, Zixu Road, Xukou Town, Wuzhong District, Suzhou City, Jiangsu Province, China
中國江苏省苏州市吴中区胥口镇子胥路188号
T    +86 188 0918 5028